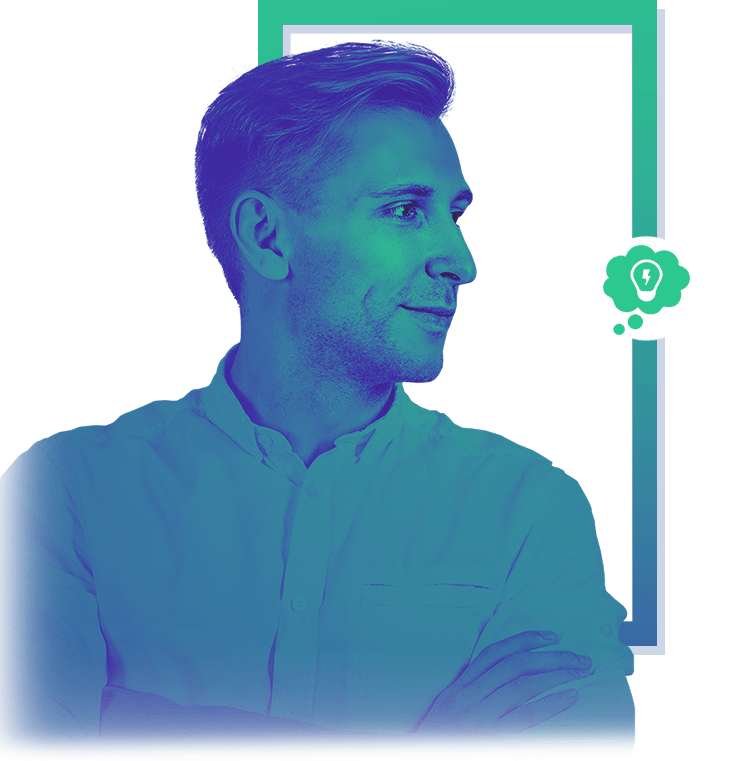 2017
State Of Interactive Marketing
B2B marketers are seeing the benefits of interactive content to engage buyers, and are increasingly incorporating rich and dynamic experiences in their campaigns.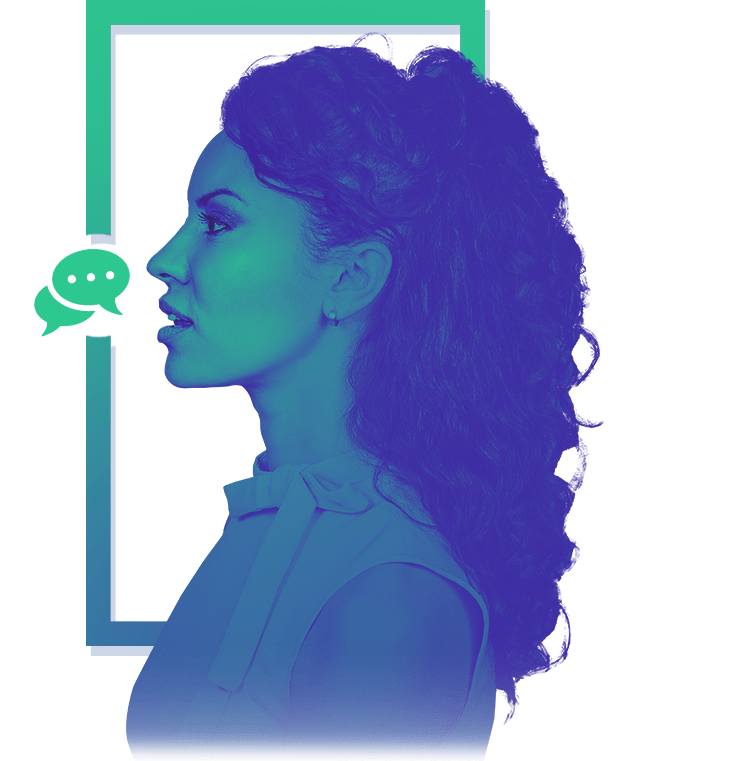 B2B buyers — especially Millennial buyers who are joining decision-making committees — are increasingly expecting rich content experiences that are engaging and provide unique interactions tailored to them. While PDFs may have been adequate for a traditional white paper, research shows B2B buyers are looking to have more of a two-way dialogue when they engage with content from solution providers. In response to these needs, companies such as Paycor, Blackbaud and BASF are creating interactive content and giving existing (and often tired) content formats a new lease on life.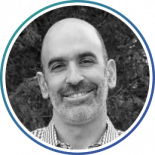 Aaron Dun
SVP of Marketing
SnapApp
"Marketers are looking into how they can leverage and bring interactive content to their audiences. It's shifting from a more static PDF — a one-way push of information — to a two-way, engaged conversation with prospects where marketers can share something of value, learn something of value and use that information constructively to identify who really wants to talk to sales now and who maybe isn't ready yet."
Why You Can't
Ignore Interactive Content
79% of content marketers who already use interactive content say they plan to increase their use in the next 12 months.
—Content Marketing Institute
Which Type Of Interactive Content
Is Most Effective In Which Stage Of The Buyer's Journey?
(Hover over the diagrams to view percentages.)
Paycor, Blackbaud & More Win Big With Interactive
Interactive content marketing is still new, so many companies are still figuring out what works for them. When it comes to deciding whether or not your brand should take the interactive route, experts suggest asking the following questions up front to help you better decide:
• Where in the funnel or demand gen process will this asset be used?
• Does it have to be gated or can we take that away?
• What's the goal? Will it take the reader to something bigger?
"You can argue that any topic can be made into interactive content," said Dana Harder, VP of Strategy at Content4Demand. "The big question we want to ask is what's the messaging that has to go in there for the buyer, how is it going to be most easily consumed for them? Understanding how much information and copy around a topic needs to be put to paper should help guide whether or not interactive is an option."
Check out these four case studies to learn from companies who opted for interactive content and saw great results.
(Click a tab to learn more about each company.)
Paycor
Paycor, a payroll and HR solutions company, needed a way to drive buyers through the funnel, generate first-time appointments and boost content marketing's contribution to net-new revenue. With help from SnapApp, the company created a salary calculator, a time-saving calculator and a product picker to target buyers at the top, middle and bottom of the funnel. Each asset became more Paycor specific than the last.
Results
• 3,700 responses in 90 days.
• 2.7x return in less than six months.
• 25x ROI after nine months.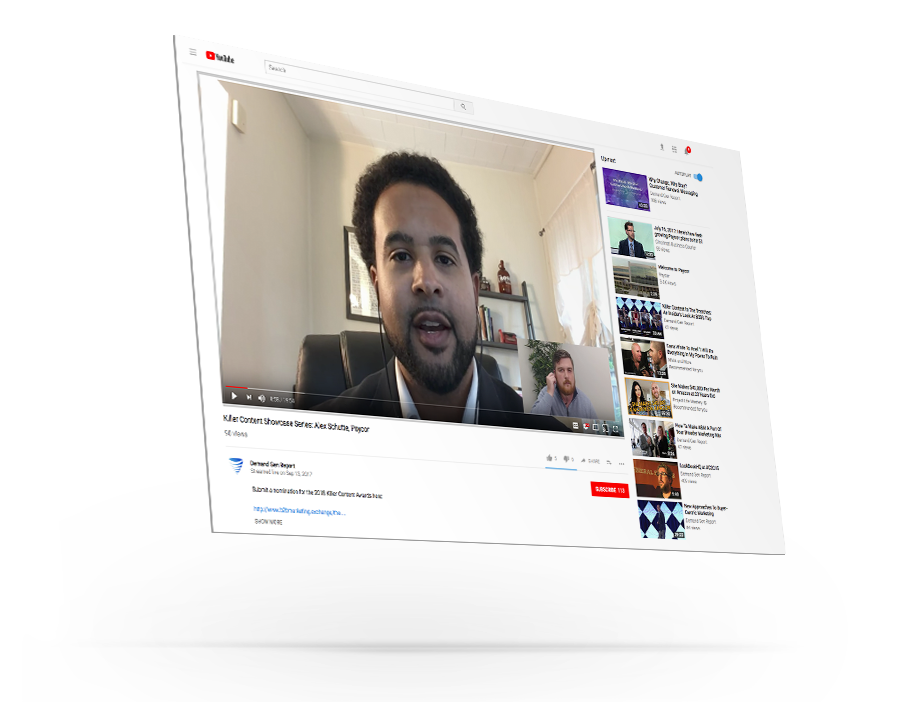 Blackbaud
Non-profit software provider Blackbaud sought a new way to engage leads without sacrificing existing marketing and CRM integrations. The company partnered with SnapApp to create two calculators and an assessment for its "Realize Real Results" campaign. Each piece was designed to help the user make their own decisions while being educated on Blackbaud's value proposition.
Results
• 500+ qualified leads.
• 133% Q1 quota reached.
• $600K+ additional revenue.
• 56% conversion rate.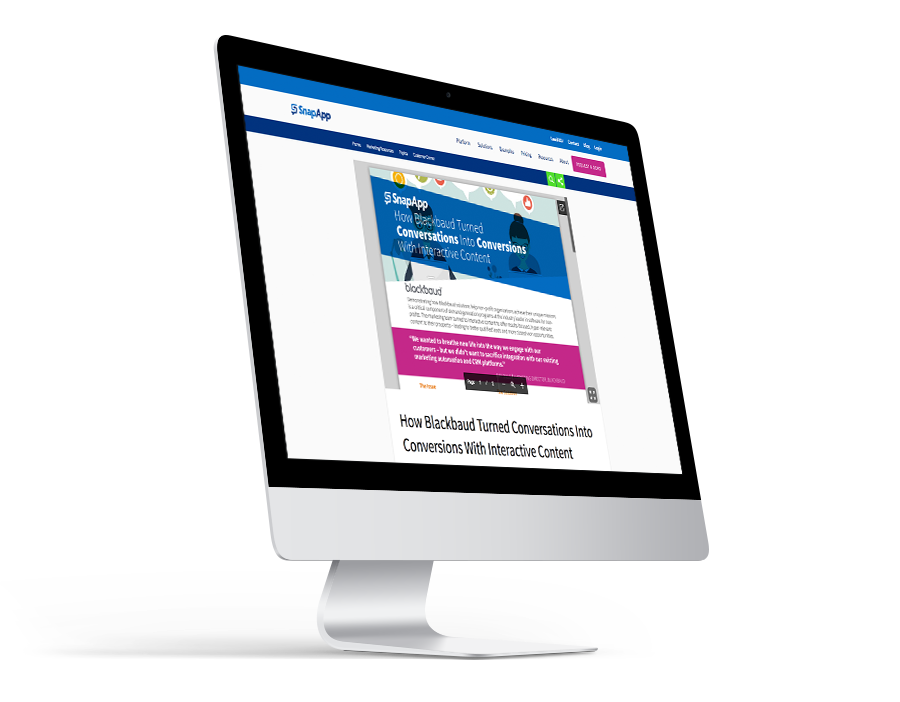 BASF
German chemical company BASF had an existing 36-page white paper on coastal living studies that needed some reimagining. The company wanted to repurpose it in a way that was easier for customers and prospects to digest. BASF developed a microsite based on the five main ideas listed within the long asset and created interactive content around the three most salient points. The microsite featured an interactive timeline of content reframed as interactive quizzes and information on how to improve coastal resilience.
Results
• Average time spent on the microsite: 12 minutes and 23 seconds.
• CTA to download the white paper on the microsite has a 16.78% click-through rate.
• 57.73% of those who downloaded the white paper converted.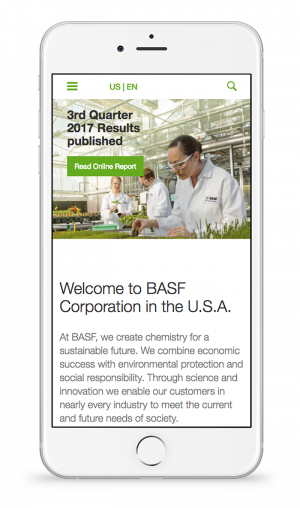 Silkroad
SilkRoad, an HR solutions provider, turned to interactive content — 14 assets to be exact — to create a more engaging dialog with its target audience. The company created polls, surveys, calculators, personality assessments and knowledge tests in order to better deliver information its sales reps needed to kick off conversations with prospects.
Results
• 1,800 new leads.
• 56% click-through rate.
• $235k in pipeline revenue in 90 days.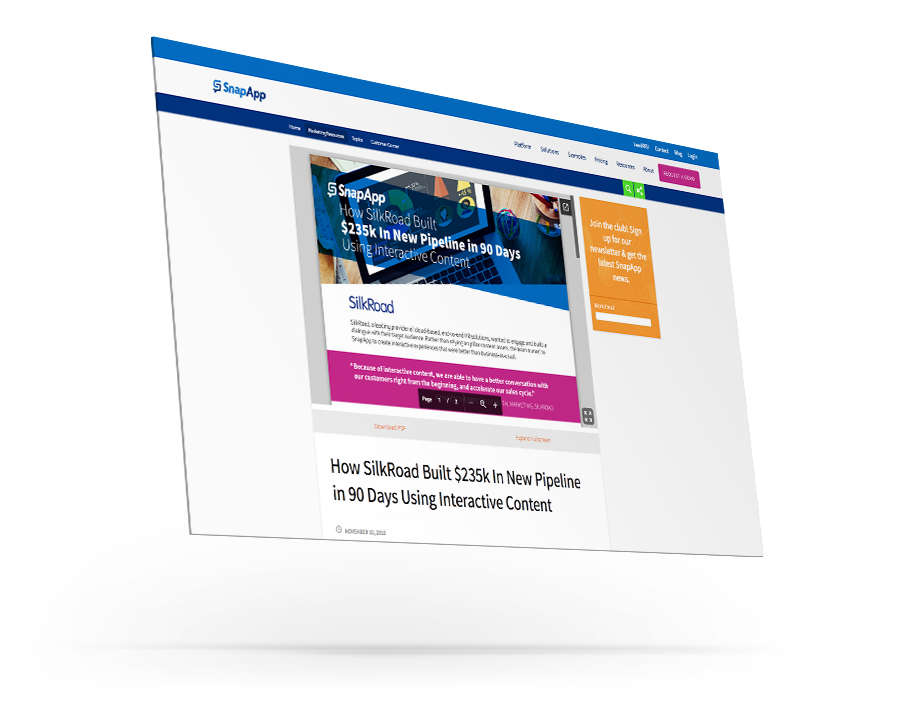 3 Hacks To Fast-Track
Interactive Content
Interactive content works: Marketers using it see higher conversion rates, increased engagement and better quality leads.
But when starting out with interactive, it can be overwhelming to figure out where to even begin. The key is to start simply and repurpose where you can. Here are three easy interactive content hacks you can try to get you started.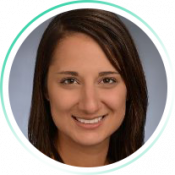 Melissa Nazar
Director of Content Strategy
SnapApp
TRANSFORM AN EXISTING PDF
Pick a high-performing, static white paper and create an interactive version that layers in transitions, animations and questions to create a true experience that engages. Element Fleet did this with their white paper on telematics.
Have a library of videos your audience loves? Pick one to incorporate questions or links into so viewers can click and engage as they watch. Check out the experience Vidyard built using questions in their video covering video marketing best practices.
Come up with a short (three-to-five question) quiz that tests audience knowledge about your industry. Play to audience curiosity, inspire competitiveness around getting a high score and even follow up with content that's personalized based on results.
Take a look at Paradigm Life's quiz on financial literacy as an example.
To get started with interactive content today, try LeadREV, a free tool that makes your PDFs more engaging in under three minutes. And for more interactive hacks and best practices, check out the SnapApp blog.
Get your creative juices flowing with more unique interactive content marketing ideas using this generator.
Experiment With Interactive
Through Content Repurposing
Experts noted that one of the easiest ways to dip your toes in the interactive content ocean is by going into existing content libraries and revamping long assets, such as white papers and E-books. Learn their tips to repurposing below:
Dana Harder
VP of Strategy, Content4Demand
Repurposing content is one of the quickest and least expensive ways to create interactive content. But you never want to take a white paper or E-book and plop it into an interactive experience as it is. It just doesn't translate that well. Think about how you can take what you have and make it shorter and more user-friendly. Then ask: How can I add interactive components to it to make it a different type of experience?
PRO TIP: Take an E-book and use highlights of it. It doesn't only have to be an infographic per se; make it a brief with a lot of interactive points and visuals to support it. Then add a strong CTA at the end to bring the reader to the longer asset.
Aaron Dun
SVP of Marketing, SnapApp
There are hundreds of white papers and E-books collecting dust on the virtual shelf. Your white paper shouldn't be collecting dust, it should be collecting leads. Instead of a form up front, allow the reader to get into the content and maybe on page three or four, ask them for a name and email to continue. That's one way to take a tired resource center and help transform it into something a little more useful.
PRO TIP: If you have an active blog, you have two opportunities: 1. Find previously popular posts and use that topic to create a quiz or assessment. Then, republish that out and tie it back to the blog post. 2. Most people who have an active blog have a subscription process for sending out a regular cadence to content to summarize what's been added to the blog. This is another opportunity for you to get people to take the next action by showcasing other content that people aren't seeing.
Pamela Muldoon
Campaign And Content Strategist, The Pedowitz Group
I'm a big fan of repurposing period. It's not always the best idea to create something new because there is a lot of content out there and most companies already have great information. Take a look at some of your static assets and start to dissect where you can add interactivity. Even if it's a simple checking of the box — it's about getting readers used to that concept. It's also about asking a different or next question: How else can I develop this content idea to get it in front of my audience so that they can engage in a different way?
PRO TIP: Take a static infographic with statistics and turn it into a Q&A where people can choose the right answer. That way, whether they click the right or wrong stat to answer the question, they can also learn from the interaction.
Getting Started: Dos And Don'ts
While most companies are just beginning to dip their toes into interactive content marketing by repurposing existing assets, some have made the dive in and came out from under with impressive results.
Are you ready to start creating interactive content? Our experts shared some dos and don'ts to help you kick things off.
Dos
"If you want to use interactive content to generate leads, ensure that the content is valuable enough your buyers will be willing to submit their information for it. With that in mind, do be careful about when and how you gate interactive content."
-Alicia Esposito, Content4Demand
"Don't be afraid to reach out to the financial side of your organization, for example, to figure out other ways you can better educate clients — perhaps on figuring out budgeting process. The more that you start to engage other departments and people in the organization, you can come up with really cool interactive ideas."
-Pamela Muldoon, The Pedowitz Group
"A lot of interactive platforms provide great intelligence into content engagement — how much time people are spending in your experience, what they're clicking, where they're zooming, etc. Use this content to not only track success."
-Alicia Esposito, Content4Demand
Don'ts
"Companies that are getting true lift out of thinking about interactive and creating that conversation and engagement with their prospect aren't doing random acts of interactive. They're thinking about how they can embed these experiences across their entire campaign strategy."
-Aaron Dun, SnapApp
"Keep word count to a minimum. You don't want to overload your audience with complex sentences and long paragraphs. It's best to get to the point."
-Alicia Esposito, Content4Demand
"You should know what kind of content your personas are consuming. If you're unsure if interactive is going to resonate with them, try it and test drive and see how it does."
-Dana Harder, Content4Demand
Conclusion
B2B marketing is at a point now where buyers are not using traditional content assets to signal purchase intent. Instead, they digest content because the content is interesting, according to SnapApp's Dun. Just because someone downloads a white paper doesn't mean they are ready to buy your product. Interactive content can play a role in helping B2B companies keep their finger on the pulse of who is engaged and ready to take the next step in the buying journey.

SnapApp empowers marketers to create personalized interactive experiences that activate buyers, accelerates leads through the funnel, and unleashes growth. SnapApp's drag-and-drop interface allows marketers to build any type of interactive experience and deploy it across multiple channels. Seamlessly integrated with the rest of their marketing technology stack, marketers gain critical insights to better personalize their marketing and create deeper engagement with their prospects. Backed by Providence Equity Partners, SnapApp customers include Paycor, Cisco, CEB, Hewlett Packard Enterprise, Blackbaud, and Equifax. Visit SnapApp on the web at www.snapapp.com or follow on Twitter @snap_app.

Demand Gen Report (DGR), a division of G3 Communications, is a targeted online publication that spotlights the strategies and solutions that help B2B companies better align sales, marketing and disparate teams to support growth and drive revenue. DGR content and news coverage focuses on the sales and marketing tools and technologies that enable companies to better measure and manage multichannel demand generation efforts. Demand Gen Report is the only information source directly focused on this rapidly emerging business discipline.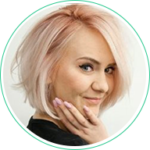 Klaudia Tirico
Features Editor
Klaudia Tirico is a retail & B2B marketing journalist, Jersey dweller, animal lover, and fashion + beauty aficionado with interests in all things related to content, social media and influencer marketing.