The Inaugural

The inaugural class of B2B Marketing Innovators is made up of 34 executives across a variety of roles and organizations. The common traits among this elite group are a passion for testing and measuring, a willingness to push the envelope with creative campaigns and messaging, and a data-driven approach to aligning with sales and driving revenue.
FOREWORD

FOREWORD

Dear Readers,
On behalf of Demand Gen Report and the entire team here at The Mx Group, we'd like to congratulate all the nominees and winners of the 2017 B2B Innovator Awards! Over the lasts several weeks, B2B professionals from across the country took the time to nominate B2B all-stars in their sphere. More than 100 submissions were received, as solution providers nominated progressive and innovative clients, and practitioners nominated leading-edge peers. Pretty impressive for the inaugural year of these awards!
After reviewing all the submissions, DGR's B2B expert judges had to undertake the tough job of narrowing it down to under 40 winners in 11 categories ranging from data science to content creation, to mentoring and more. All the entrants and winners have been striving to break new ground and advance emerging areas in our ever-changing world of B2B marketing, which aligns directly with what we at The Mx Group do with our clients every day. It's an exciting time to be in our industry and we know you'll be as inspired as we were after reading about the winners' work in this special report.
I hope you enjoy reading about these innovative B2B marketing leaders!
Sincerely,

Andy Mahler
Founder and CEO, The Mx Group
ABOUT OUR B2B
INNOVATOR AWARDS
The Demand Gen Report B2B Innovator Awards were created to spotlight B2B executives who think outside the box to develop and foster innovative concepts and strategies that help move the overall B2B industry forward.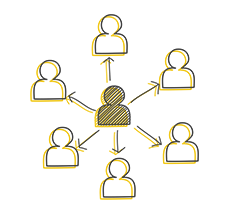 PRESENTED BY
DEMAND GEN REPORT
Demand Gen Report (DGR), a division of G3 Communications, is a targeted online publication that spotlights the strategies and solutions that help B2B companies better align sales, marketing and disparate teams to support growth and drive revenue. DGR content and news coverage focuses on the sales and marketing tools and technologies that enable companies to better measure and manage multichannel demand generation efforts. Demand Gen Report is the only information source directly focused on this rapidly emerging business discipline.